http://www.bbc.com/news/world-europe-39914495#_=_ 
Article follows – – I get my say first!
Authoritarian governments, under the control of tyrants, hold political prisoners without bringing charges.   You ain't allowed to do that in a democracy.
Laws become tools for silencing dissent when Governments can hold people hostage with the threat of prosecution, but never proceed to actual laying of charges.
The Prosecutor's Office in Sweden – – FIVE years and no charges? Give me a break. They are puppets for someone, certainly not for democracy in Sweden.
So what's OUR role? The citizens of Sweden aren't doing their job in holding their Gov't to account. I think we can and should help publicize the situation.  It's the old story – – who will defend you when your turn comes?
– – – – – – – –  – – – – – – – – – – – – – –
BBC REPORTS: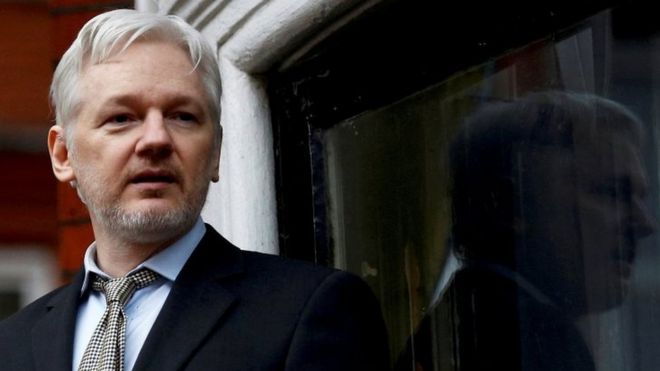 The Australian national has not left the Ecuadorean embassy in London for nearly half a decade. Reuters
Ecuador has voiced concern over the "serious lack of progress" by the Swedish government in dealing with Wikileaks founder Julian Assange.
It said there had been a "serious failure" by Sweden's prosecutor to complete an inquiry into sexual assault allegations dating back to 2010. 
Mr Assange has been confined to the Ecuadorean embassy, where he has asylum, for nearly five years. 
He fears he will be extradited to the US if he leaves the building. 
The Australian national is concerned the US may seek his arrest over Wikileaks' release of 500,000 secret military files on the Afghanistan and Iraq wars.
The sex assault accusations – which Mr Assange denies – relate to a visit he made to Stockholm to give a lecture in 2010. 
He is accused of raping a woman, named in legal papers as SW, at her home in August that year. But Mr Assange says the sex was consensual and believes the allegations are politically motivated.
In December last year, Sweden's chief prosecutor travelled to London to question the Wikileaks founder for the first time over the case, although no details of the meeting were released. 
In a letter sent to the Swedish government this week, the Ecuadorean authorities accused the chief prosecutor there of a "lack of initiative". 
It also raised recent comments from members of US President Donald Trump's administration on the case, including CIA boss Mike Pompeo who described Wikileaks as a "hostile intelligence service", suggesting this constituted an "obvious risk" for Mr Assange. 
Last month, US Attorney General Jeff Sessions said arresting Mr Assange was a "priority". However, there was no official confirmation from the US justice department at the time about impending charges. 
British police say he will be arrested if he leaves the Ecuadorean embassy in London, where he is beyond the reach of the UK authorities. 
Part of the Swedish investigations were dropped in 2015 because of a statute of limitations.