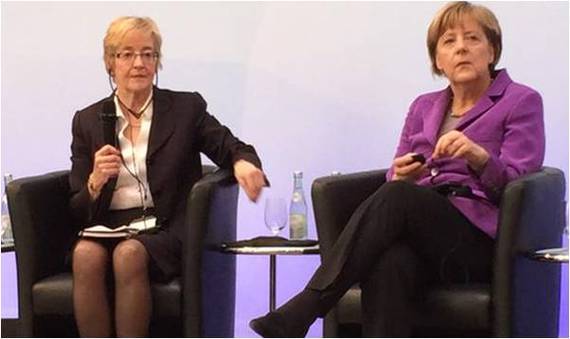 By Sujata Dey
Berlin — Yesterday (April 20, 2015),  Maude Barlow, national chairperson of the Council of Canadians, challenged the Canada-European Union Comprehensive and Economic Trade Agreement (CETA) and other trade deals in a panel discussion with German Chancellor Angela Merkel. During the panel, Chancellor Merkel presented her G7 presidency priorities.
"While the themes of the 2015 G7 are laudable — combatting poverty, infectious disease and hunger; protecting the climate; and empowering women — the trade policies of the G7 countries have actually contributed to all the problems they are going to be discussing," said Barlow. "These trade deals will exacerbate growing inequality and a deteriorating environment."
Barlow appealed to German and European leaders to reject CETA and its investor-state dispute settlement provisions, which allow corporations to sue countries over labour, environmental and social standards that impede profits.
On Saturday, as part of a International Day Against Free Trade Agreements, thousands of people in Germany — including 23,000 in Munich — protested free trade agreements, in particular CETA and the Transatlantic Trade and Investment Partnership (TTIP), the U.S.-EU free trade deal. Opposition against CETA and TTIP is strong in Germany, with many German leaders outright opposing the provisions allowing corporate lawsuits.
"CETA and TTIP export the worst of each continent to the other continent. They undermine the higher food, safety and environmental regulations in Europe by allowing North American companies to challenge these standards. And they impose higher drug prices on North America as they extend patent protections there. Also, they give European companies access to municipal and public services, leading to privatization. These deals favour the one per cent at the expense of the public interest," adds Barlow.
Barlow also cautions European leaders who have expressed hope that these deals could provide them access to cheap energy.
"European alternative energy production and energy conservation policies are models for the world. North American North American Energy– fracking and tar sands– are dangerously unsustainable. Greater access to oil is not going to help Europe or the planet."
The panel was part of a G7 Civil Society Dialogue Forum hosted by the German NGO Forum on Environment & Development, VENRO (the Association of German Development and Humanitarian Aid NGOs) and the German G7 presidency.
The audio recording of the event can be found here.
Photos can be found here.
Photo: World Future Council