http://www.theguardian.com/world/2015/aug/20/spain-judge-baltasar-garzon-prosecute-global-corporations#comments
Baltasar Garzón to push for economic and environmental crimes to be treated as those against humanity at international conference next month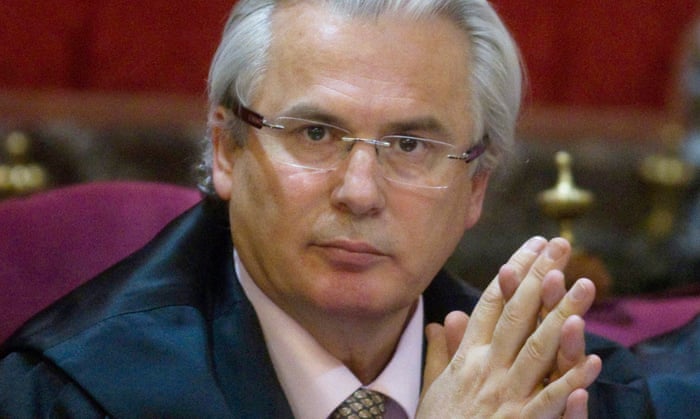 Baltasar Garzon's innovative use of universal jurisdiction is under attack from Spain's government. Photograph: Juan Medina/Reuters
Ashifa Kassam in Madrid
He has brought down governments, closed newspapers and ordered the arrests of dictators.
Now Baltasar Garzón, the Spanish judge who redefined the boundaries of cross-border justice, has set his sights on widening the definition of international law to target corporations that carry out economic or environmental crimes.
"Humanitarian and economic crises cause more deaths around the world than all of the genocides we have documented," said Garzón, who made headlines around the world when he ordered the 1998 arrest of former Chilean dictator Augusto Pinochet in London.
Next month, he and other leading activists, judges and academics from a dozen countries will come together at a conference in Buenos Aires to push forward the idea that economic and environmental crimes be considered crimes against humanity, akin to torture or genocide.
Actions that could be considered criminal, said Garzón, include those of the so-called vulture funds that undermine countries' debt restructuring, or companies that turn a blind eye to the abusive exploitation of natural resources such as coltan, used in mobile phones, digital cameras and computers.
These actions fit within the definition of crimes against humanity, as they affect certain sectors of the population and trample on human rights, he said. Referring to environmental crimes, he said: "We're seeing how climate change is connected to natural disasters and famines."
The recent crisis in Greece had yielded another example of what he saw as criminal behaviour. "While the Greeks were voting in the referendum, there was a massive exit of capital from the country, some €2bn. It left the country on the brink of collapse and limited how much money citizens could withdraw each week," said Garzón. Widening the application of international law could enable courts to force the return of this capital or to embargo it.
The mechanism for prosecution would be universal jurisdiction, a provision in international law that allows judges to try cases of human rights abuses committed in other countries. The doctrine would be particularly helpful in going after large corporations, as it would allow the law to equally pursue perpetrators regardless of where their headquarters are located.
For much of the past two decades, Spanish judges were among the leaders of applying universal justice, relying on the doctrine to reach beyond Spanish borders and investigate serious human rights abuses in Argentina, Rwanda and Guatemala.
Last year, after a court in Spain ordered Interpol to issue arrest warrants for former Chinese leader Jiang Zemin and four other senior Chinese officials over alleged human rights abuses in Tibet decades ago, the governing People's party fast-tracked a reform to curb the use of universal jurisdiction in Spain.
Critics accused the Spanish government of prioritising trade relations with China over human rights. Garzón, whose judicial career in Spain ended in 2012 after he was convicted of illegally ordering the wiretapping of conversations between defence lawyers and clients in a corruption case involving the People's party, warned that the changes were part of a wider step backwards on human rights in Spain.
This latest initiative will likely face serious political obstacles as well, said Garzón. "The problems will come when this initiative affects powerful countries, such as the United States, China or Israel," he said. "But little by little the path will be paved."