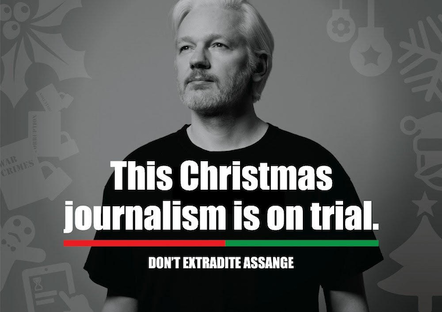 At 3pm on 3 December, Brian Enos will pull the sheets off an oversized digital Christmas card (pictured) outside the Home Office's Westminster premises, featuring a snap of white-haired WikiLeaks founder Julian Assange and emblazoned with the cheery message: "This Christmas journalism is on trial."   . . .
At the event, Joe Public will be able to add a personalised message to general pleas not to hand Assange over to the US justice system, which will then flood Priti Patel's inbox.
An electronic version will pummel Home Office email accounts on 19 December, the date of Assange's next court appearance.
Jules is currently serving 11 months in HMP Belmarsh for skipping bail in June 2012
The rape allegations were last week dropped due to "weakened evidence", according to the Swedish Prosecution Authority, meaning the US could book him on a one-way flight across the Pond.
Assange's extradition hearing is set to take place 24 February, which he tried and failed to delay.