Below is the actual press release.   See also
Significance explained:   U of Saskatchewan taken to Court . . .
= = = = = = = = =
UPDATE:  GOFUNDME  has been set up.
Goal: To fund the legal costs of forcing the University of Saskatchewan's senior administration to comply with the recommendations of Saskatchewan's Information and Privacy Commissioner and the public's right to know.
https://www.gofundme.com/academic-integrity-legal-fund
If this cause resonates with you please do consider making a financial contribution to this fund.
Many thanks!
D'Arcy
= = = = = = = = = = = = = = =
Please share widely.
University of Saskatchewan is taken to Court
Refuses to disclose Right to Know symposium proceedings
NEWS RELEASE
For immediate release: Thursday, 2 August 2018
For more information contact:  D'Arcy Hande  hande.dk    AT   sasktel.net  1 306 220 0321
Saskatoon, Sask. – Notice of Appeal against the University of Saskatchewan was filed today in Court of Queen's Bench.  Retired archivist D'Arcy Hande, the applicant, is asking the Court to enforce recent recommendations by Saskatchewan's Information and Privacy Commissioner that the University lift most of its redactions in the transcript of proceedings of a closed symposium involving university and agriculture industry representatives, held on campus December 2, 2015.
The symposium, entitled Research Management and the Right to Know (referring to the US organization "Right to Know," which has brought to light several instances of undue influence on research by industry partners) was by invitation only. The 20 attendees included members of the University of Saskatchewan administration, faculty from this and other universities, research funders, communications personnel and representatives from industry.
"I strongly believe that the University, a publicly funded institution, needs to demonstrate that its research and scholarship is in fact serving the broadest public interest," said Hande. "The redactions to this document imply that the University wants to avoid scrutiny of its affiliations with controversial industry partners like Monsanto/Bayer."
Emails previously obtained through FOI indicate that UofS Professor Peter Phillips, assisted by Monsanto Canada's "social sciences lead" Camille Ryan, organized the symposium in order to develop strategies for managing the intense media scrutiny of collaborations between university researchers and the agricultural chemical industry. A critical news report about Phillips' associations with Monsanto had appeared in the Saskatoon StarPhoenix just weeks before, and it had both Phillips and Ryan very concerned.
(INSERT by me:  The news report is important. A backup copy is at http://sandrafinley.ca/?p=15508)
Hande submitted an Access to Information request to the University in August 2017, asking for a copy of the Symposium's proceedings. In November the University provided a 42-page transcript, but it also blacked out 85% of its contents, claiming to protect third parties and academic freedom. Names and affiliations of non-UofS participants and almost all of the discussion at the meeting had been redacted.
Hande asked Saskatchewan's Information and Privacy Commissioner Ron Kruzeniski to review the University's actions. In Kruzeniski's opinion, delivered on June 5, 2018, the University had not applied the Local Authority Freedom of Information and Protection of Privacy Act appropriately.  He therefore recommended that they lift most of the redactions to make the transcript more publicly accessible.  The University refused to comply, which has impelled Mr. Hande to begin legal proceedings.
– 30 –
[JPEG attachment]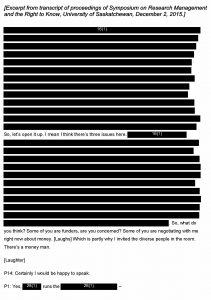 D'Arcy Hande
Box 32040, Erindale P.O.
Saskatoon, SK  S7S 1N8
CANADA
Email hande.dk  AT   sasktel.net
1 306 249 1392