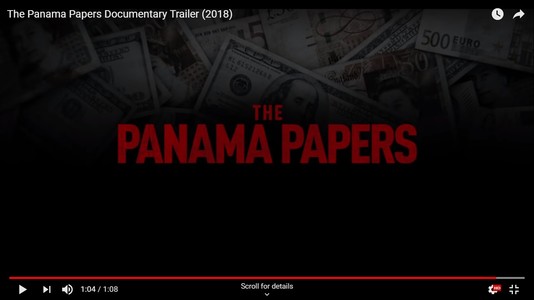 Panama Papers documentary premieres in Canada this week
Pass the popcorn. A documentary about one of the most explosive leaks in history makes its Canadian debut this week in Toronto. The Panama Papers tells the story of how a global network of investigative journalists worked together to uncover widespread use of offshore entities by the world's wealthiest and most powerful individuals. It also looks at the extent to which that combined tax evasion falls on the shoulders of the average citizen as countries lose out on an estimated $32 trillion hiding in 80 tax havens in 2010 alone.

The film has received many positive reviews including 100 percent on Rotten Tomatoes. "The Panama Papers is a lively and level-headed exposé, but it's also a moral inquiry into how the top echelon is now united, structurally and spiritually, in robbing the rest of us blind," writes one review in Variety Magazine.

The documentary is playing at the Hot Docs Rogers Cinema at 506 Bloor St. W Wednesday March 6 at 6:30 p.m. and Thursday March 7 at 6:45 p.m. More information on screenings is available online.

Canadians for Tax Fairness, which is based in Ottawa, will be reaching out to other independent theatres to request the documentary be aired in other cities as well. We encourage our supporters across Canada to do the same in their respective communities.

Wealth, greed and corruption make for great story-telling so it's no surprise that three years later, the Panama scandal continues to attract not only documentary film makers but Hollywood elite as well. Shooting began last year on The Laundromat, a major motion picture starring Meryl Streep, Gary Oldman and Antonio Banderas. It follows the journalists who analyzed the banking data leak and pieced together links between powerful political figures and billions in tax avoidance. The film, directed by Steven Soderbergh, is expected to be released later this year.

We hope these exposes of the massive extent of tax evasion through tax havens, pressure from the public, and advocacy by Canadians for Tax Fairness and our allies in Canada and around the world will convince governments to finally fix the broken systems that allow corporations and the very wealthy to evade and avoid paying their fair share of taxes to profit while ordinary people struggle to get by.