By Richard Norton-Taylor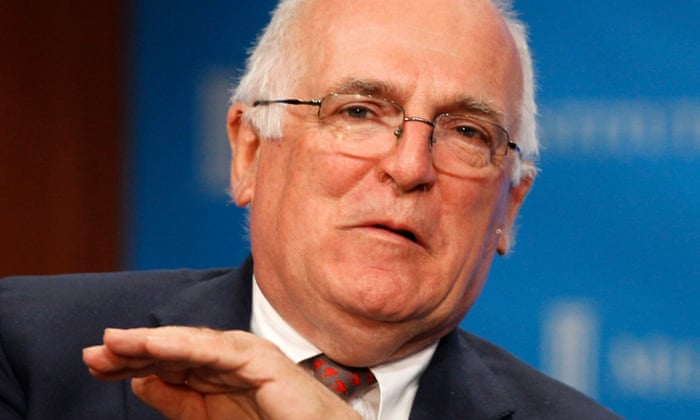 Sir Richard Dearlove, former chief of MI6, says the threat of terror requires social, cultural, and educational responses. Photograph: Lucy Nicholson/Reuters
A former head of MI6 has said that an independent body, made up of "citizens' groups" and other outsiders, should be set up to scrutinise Britain's security and intelligence agencies.
Such a body, including non-government organisations (NGOs) and people who "really understood technology", as he put it, could have authority and help to reassure the public, Sir Richard Dearlove told a security thinktank on Tuesday.
He made the case for a new scrutiny body – of a kind proposed by the Guardian – in the course of a speech in which he raised serious questions about the families of London schoolgirls who are believed to have joined the extreme Islamist group, Isis, in Syria.
He wondered if the families had discussions about the current disputes and divisions within Islam and the Sunni-Shia struggle. "If the answer is they had not, the family is certainly at fault," Dearlove said.
The problem could be managed, Dearlove said. He described the Charlie Hebdo attacks in Paris as a "serious security failure by the French authorities". The target was known and the threat was known, he said.
"The attack should have been stopped." There should be "social, cultural, and educational responses" as well as a "national security response" to the terror threat, Dearlove said.
There was a risk that Mohammed Emwazi, known as Jihadi John, and the "Bethnal Green tearaways" – a reference to the three schoolgirls Shamima Begum, 15, Kadiza Sultana, 16, and Amira Abase, 15 – would attain iconic status. Isis, he warned, had become "the new gold standard for PR".
The actions of Isis and other groups might be shocking, Dearlove said, but they did not pose a serious security threat to Britain. That might change, he added, if such groups were getting hold of nuclear material, an ambition al-Qaida once announced.
Dearlove's proposal for a body to scrutinise GCHQ, MI6 and MI5 was an explicit and direct attack on the much criticised parliamentary Intelligence and Security Committee (ISC). A new scrutiny committee, should be "representative of different threads of opinion", Dearlove, now Master of Pembroke College, Cambridge, said.
In a report prompted by the revelations of Edward Snowden, the former US National Security Agency contractor, the ISC said last week Britain's laws governing the intelligence agencies and mass surveillance required a total overhaul to make them more transparent, comprehensible and up to date.
Potentially a much greater threat to Britain's security than Islamist terror groups, Dearlove suggested, was a resurgent Russia. He said the west had "mishandled" Ukraine and there had been a tendency to treat Russia, after the fall of the Soviet Union, in a way Russians deeply resented.
Dearlove said that Russia had become "a dangereous neighbour" who had to be deterred. One way of doing that was to beef up European armed forces, he said.