National Post View | Last Updated: Jun 4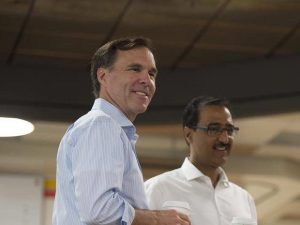 Photo by Shaughn Butts / Postmedia Keith Gerein story
Federal Finance Minister Bill Morneau along with the Honourable Amarjeet Sohi, Minister of Infrastructure and Communities.
As the Liberal government moves closer to making the Canada Infrastructure Bank a $35 billion reality, you would think Canadians would be getting more clarity about the bank, not less. Instead, alarming new questions about the bank surface almost daily. And the Liberals — who are rushing to get implementing legislation passed before the summer — seem uninterested in addressing critics' key concerns, including those relating to the bank's independence and potential subsidization of private-sector investments.
Many will recall that the bank got off to a rosy start. The Liberals' sexy new economic growth council pitched the idea for the bank back in the fall, and the proposal was embraced widely across the spectrum. As former Bank of Canada governor David Dodge noted in a November 2016 letter to the finance minister, Ottawa deserved praise for focusing on "'revenue generating projects'… which generate real productivity enhancements."
Indeed, the idea had widespread appeal because it twinned the goals of productivity-boosting infrastructure with efficiency and cost-effectiveness. Specifically, the council proposed using the bank to harness private money and expertise for large infrastructure projects that would have traditionally fallen to government to fund, with some too unaffordable for that.
The party that criticized Harper for burying important legislation in voluminous omnibus bills has squeezed its blueprint for the bank into a more than 300-page omnibus bill
The carrot? Investors would have an incentive to invest, because the bank would screen projects for their ability to generate future revenue streams. That is, users (as opposed to taxpayers at large) would pay for things like subways, bridges and roads through tolls or user fees over long periods of time. As economists have long argued, the user-pay model is frequently ideal, as it ensures projects only get built where there's a need for them, and that they're used efficiently once built.
But all that early reputational capital amassed for the bank has been depreciating rapidly. For one, there are concerns over how the Liberals have approached implementing its founding legislation, Bill C-44. The party that repeatedly criticized Harper's Conservatives for burying important legislation in voluminous omnibus bills has squeezed its blueprint for the bank into Division 18 of Part 4 of a more than 300-page omnibus bill. Naturally, the Liberals are also now ignoring calls for standalone legislation.
This concern might have been mitigated if the parliamentary committee scrutinizing the bill had done a proper job. Alas, on the very day the committee began studying the bill, Liberal MP Jennifer O'Connell said the Liberal-majority committee would not be suggesting changes to the bill's infrastructure provisions — making it unclear why they are bothering to review it at all. The bill's best hope of receiving scrutiny now rests with the Senate — which is, we suppose, better than nothing.
The bank's structure runs contrary to the council's express recommendation that the bank have an 'independent governance structure'
There's also the matter of the bank's design. This week, François Beaudoin, the former president of the Business Development Bank of Canada (BDC), contacted The Globe and Mail to express his worry that the bill fails to insulate the bank's leadership from political pressure. Beaudoin knows a thing or two about the importance of institutional independence. It was during his tenure as president of that Crown bank that the BDC became involved in the "Shawinigate" affair, which concerned allegations that former prime minister Jean Chrétien had pushed Beaudoin to approve a loan application by a businessman from Chrétien's riding, who allegedly owed Chrétien money. Beaudoin resigned after suggesting the loan be recalled, and subsequently won a wrongful dismissal suit for BDC's treatment of him.
As written, Bill C-44 fails to protect the bank's leadership from the kind of pressure Beaudoin faced. Cabinet is empowered to appoint the bank's directors and approve the board's choice of CEO, and to remove them for any reason — including, say, failing to endorse projects that cabinet wants built. This structure runs contrary to the council's express recommendation that the bank have an "independent governance structure," including a "highly independent board of governors and CEO." Such independence is critical to ensuring the bank attracts capital and talent. Just as troubling, the bill requires the finance minister to approve all loan guarantees provided to investors. This power further heightens the risk of loan decisions being influenced by politics.
Finally, there are financial concerns. As a number of economists have observed, it's unclear why the government is contributing capital at all. Any infrastructure project that is likely to generate profits should attract private capital easily enough. The Liberals have not explained why the public must pony up additional billions. While the council did recommend that the bank be capitalized by taxpayer dollars, it added that the "bank should be mandated to attract four dollars of institutional capital for every government dollar invested upfront." Bill C-44 includes no such obligation.
Most worryingly, there are signs that Ottawa intends to privilege investors' interests over taxpayers'
Most worryingly, there are signs that Ottawa intends to privilege investors' interests over taxpayers'. iPolitics reported this week that government officials have apparently been promising investors they will get satisfactory returns even if revenues fall below estimates. If true, taxpayers will effectively be guaranteeing a revenue floor for investors. This would distort investors' risk analysis of whether to invest, and would increase the likelihood of taxpayers picking up tabs for poor performance.
There is a role for government in promoting private-sector infrastructure development, albeit a limited one. Many of Ottawa's valuable functions are already spelled out in the bill — such as receiving proposals, structuring agreements across project proponents, collecting data and providing advice. As Jack Mintz argued in the Financial Post, government might also need to regulate user fees where projects have quasi-monopolistic characteristics.
But the Liberals have not explained why public funds are needed to get these profit-oriented projects off the ground, or why taxpayers should be assuming most of the downside risk, while guaranteeing investors the upside.
On their own, concerns about the bank's independence and design would be worrying enough. Taken together, they make a strong case for putting the brakes on this plan — if not parking it altogether.
National Post
= = = = = = = = =
MY COMMENT
Larry Summers was hired by the Liberals to advise them on economic policy prior to the 2015 Election. The guy sounds good, he has "credentials".
He was part of the 2007-08 financial fiasco in the U.S., see the documentary Inside Job.
He was a civil servant, advising Clinton and later Obama. Under Clinton he helped de-regulate the financial system in the U.S.   Under Obama he assisted the Wall Street fraudsters further. He himself became rich.
He was President of Harvard for 5 years – – BUT he was booted out. For good reason, but apologists come to his rescue.
Canadian Foreign Affairs Minister Chrystia Freeland was a student at Harvard. Later she worked in a variety of editorial positions at the Financial Times. One report credits her with getting Summers a column at the Times. Summers is listed among her "friends in high places".
So then we come to the Liberals' Advisory Committee on Economic Growth. Dominic Barton appointed by Finance Minister Bill Morneau to head it up. Barton co-founded the "Inclusive Capitalism Initiative".  And has had Summers come to confer with the Advisory Committee. Barton is head of McKinsey Co., currently from London UK.  McKinsey has 25,000 employees around the globe "advising" Governments and others.
His "inclusive capitalism" is a response to the success of the Occupy movement and the growing Anti-Capitalism in the wake of the corruption among the international "banksters".  Barton is key in re-branding of capitalism, to save the elites from getting crucified.
The Canada Infrastructure Bank (CIB) and $188,000 000 000 in infrastructure spending over 12 years will do exactly what the "banksters" have been doing to developing countries for decades – someone gets rich but it isn't the public.
Last, re bailout of Canadian banks:  economist David Macdonald – "he revealed in 2012 that there had been "secret bank bailouts" of Canada's top six banks amounting to at least $108 billion and likely as much as $114 billion between September 2008 and July 2010."
As I see it – – Conservatives, Liberals, the potential for betrayal of Canada is equal. There are both good and bad in both parties. Maybe the biggest problem is how susceptible we all are to "spin".
The little book, Beyond Banksters is well worth taking the time to read.  (Not all the preceding is from it.)