It has taken ten years.  Lockheed Martin Corp is OUT of the Canadian Census and Statistics operation.  MAYBE.
IF they are "out":
A huge number of Canadians, most of them anonymous, are to thank.
The main tool was "spreading the word" through community grapevines – electronic media but also conversations with friends.  Ultimately, that is what counted – the formation of a critical mass of citizens who know about Lockheeed Martin.
An excellent companion-piece, a 20 minute you-tube.  You'll find Lockheed Martin, once again:   The Business of War: SOFEX  
Number of views
July 22, 2014:   1,248,100
May 24, 2016:   2,014,146
Jan 15,  2018:    2,775,030
Nov 11,  2018:    3,543,201

New to the story of Lockheed Martin at StatsCan?  see the Static Page  about Lockheed Martin and its intrusion into Canadian Government.
Canadians were not told that their efforts were successful:
the decision by Statistics Canada (Lockheed Martin has to go) was not announced
the reason for riddance? . . .  conscientious objection by so many Canadians
How do we know?
TRANSCRIPT  of the testimony by Yves Beland, Director of Census Operations at the October 2013 trial of Audrey Tobias.  Under oath.  (Audrey was 89 years old at the time of her trial over Lockheed Martin's involvement in Statistics Canada.)
Excerpts from Transcript, Yves Beland:
1.      Transcript, Tobias trial establishes Lockheed Martin is OUT
2.     StatsCan math is wrong on non-compliance. It's 11%, not 2%
The information that Lockheed Martin is "out of the picture totally"  was found in the transcript from the Audrey Tobias trial,  during preparation for the trial of  (Karen) Eve Stegenga, July 17, 2014 in Powell River, B.C..  The issue was the same.   Eve would not fill in her census form because of Lockheed Martin's involvement.
– – – – – – – – – – – – – – – – – – – – – – – – –  – – – – – –
HOW DO WE NOT KNOW?     
Please see    2016-03-18  Does Lockheed Martin Corp have a role in the 2016 Census? 
Canada is part of an international arrangement for compatibility of census operations in at least 5 countries, under the "steerage" of Lockheed Martin Corp.
– – – – – – – – – – – – – – – – – – – – – – – – –  – – – – – –
Three women a threat to their communities, had to be prosecuted: 
Even though StatsCan KNEW (??)(under oath)  that Lockheed Martin's role in the Census will be ended within two years (the next Census in 2016),  and the decision had been made by the time of the Tobias case in October 2013,
they went ahead and prosecuted:
Audrey Tobias, 89 years old
Janet Churnin, 79 years  old  and
(Karen) Eve Stegenga,  a self-employed yoga instructor, 37 years old.
The three women are obviously a threat to other people in their communities.  Hence deserving of prosecution.
(Karen) Eve Stegenga received a conditional discharge (July 17, 2014).  She is to do 25 hours of community service.
Janet Churnin received a conditional discharge (December 2013).  50 hours of community service.
Audrey Tobias was found not guilty (October 2013).
It is good to see the Justice Department putting tax money to good use.  The cost of any one of these trials is very high – preparation, consultations, judges, prosecutors, court workers, facility costs, opportunity costs (the money could have been put to better use).
As reported above, by 2011 non-compliance was 11%  (not the 2% reported by StatsCan).
Hopefully, after the Stegenga case, the Justice Dept "gets it":  the collective conscience of Canadians is strong.   They are not going to obtain compliance by using the threat of prosecution.
Prosecution Services wanted a $250.00 fine, community service, and probation for Eve Stegenga.  The intent was deterrence for other Canadians.  It seems to me to be a backward argument.  They will get higher rates of compliance, not through coercion but by getting rid of the cause of the conscientious objection:  Lockheed Martin.    StatsCan has done that (or not).  Why they continued to prosecute the Lockheed cases is beyond me.   If it's just to show who is Lord of the Manor, well, they may want to re-assess.   The Judges are not upholding their lordly status (two discharges and one not guilty).
CHARTER ARGUMENTS  REJECTED 
Canadian Charter of Rights and Freedoms
The Fundamental Freedoms of
Conscience and
Privacy of Personal Information
have not been upheld by the Courts,  in the Lockheed Martin – Census trials.  In the case of Conscience, two Judges ruled that the connection between the individual's conscience and the Lockheed Martin contracts is too remote.   They referred to case law.
Madame Justice Mocha of Ontario Provincial Court, Churnin Judgment:
The connection between the administrative requirement and Lockheed Martin is simply too remote . .
From my perspective:
Canadians in large numbers disagreed with the two Judges.
Point of departure:  the Justice system relies primarily on our rational faculty.  A collective of citizens will employ a more holistic approach;  rational will be tempered by conscience, history, intuition, family life experience, stories …
The Judge in the Audrey Tobias case:
Page 6 (in an entertaining)  R. v. Tobias judgment:
This is an area best left to Parliament and the Provinces, not to the Judiciary.
Judge Khawly creatively found a way to find Audrey "not guilty".
I note that Parliament is supposed to draw its authority from citizens.
4.   In the end, citizens stood firm.  The Courts nor Parliamentarians defended our Charter Rights.  Citizens did.  Lockheed Martin is out of the Census Operations, Statistics Canada.
It was nothing more than expressions of conscience (a collective conscience) that led to the removal of Lockheed Martin.
The objections came in by the thousands, right from the beginning marked by the letter from the Nova Scotia Quakers (Feb 2004).
The numbers through the ten years were enough to cause StatsCan to act ("scaled back"), and then to act again, until Lockheed is completely out.
At trial the INDIVIDUAL Right to Freedom of Conscience was denied, because the connection between the conscience of the individual and the Lockheed Martin contracts is too remote. … Not so, it is quite intimate.
We are human beings.  We know right from wrong, in spite of the fact that our rational faculty  (that most "fragile" of our faculties) might sometimes forget it.  We have a Charter Right to protect that thing – – conscience – –  which gives us our humanity.
Further to the moral argument:  Canada has an obligation to the International community to uphold the covenants we make with them.  By contracting with a known producer of cluster munitions, illegal under laws championed into being by Canada, Canada is robbed of its moral authority.
The Prosecutor, in the general rebuttal of Stegenga's claim to protection under the Charter Right to Freedom of Conscience, put forward that Stegenga's view is "idiosyncratic".  The word means "peculiar to the individual".   But Canadians in large numbers hold the view that collaboration with Lockheed Martin is wrong.  Perhaps the idiosyncratic view is that it is right.
More than one in ten households did not comply; i.e.  1.6 million households did not comply with the Census   Lots of those knew nothing about Lockheed Martin.  But thousands upon thousands, maybe hundreds of thousands, did know.
The Information below used in the Trial of Eve Stegenga may be of value to others –  the obstacles to be overcome, a few select documents about Lockheed Martin, the Resistance, and the Charter Arguments:
The Trial of (Karen) Eve Stegenga
IMPORTANT POINTS:
BEFORE the Trail started, Eve negotiated a Statement of Agreed-Upon Facts with the Prosecutor.  In the end there from four agreed-upon facts  (out of 27 put forward).  The negotiations and the final Statement were contributors to Eve's final success.
AT TRIAL:
1.  In the Lockheed Martin – Census trials. the Justice Dept routinely claims that Lockheed Martin Canada is a different company from Lockheed Martin USA.  (Hence, the crimes committed by Lockheed Martin cannot be used at trial.)
It was critical to establish the role of Lockheed Martin USA.   It was done with a screen capture of Lockheed Martin's webpage (below) that says:
Our Census Business Practice successes include . . .  Canada's 2011 and 2006 Census.
http://www.lockheedmartin.com/us/products/census-systems.html
In case you can't read it:
The Lockheed Martin Census Business Practice team is a premier international provider of integrated census data collection, processing and analysis solutions. Two decades of unmatched experience, resources, methods, systems and commitment ensure that our census solutions are flexible, secure, accurate and cost effective.
Our Census Business Practice successes include the U.S. 2010 and 2000 Census, the United Kingdom's 2011 and 2001 Census, and Canada's 2011 and 2006 Census.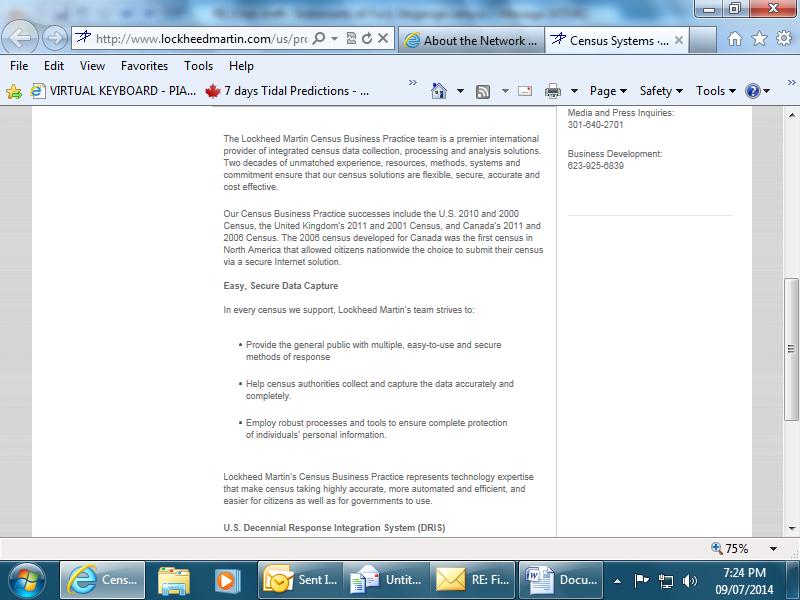 2.   Eve was successful in getting the Transcript evidence from the Tobias trial (above) accepted as Exhibits for her case (evidence).   She did a nice job of pointing out that the testimony saying "Lockheed Martin is totally out" and the math related to rates of non-compliance (11% actual, not 2%) came from the Director of Census Operations, i.e. from senior management at StatsCan, not just from "a Government employee".
3.  The Judge accepted copies of the Quakers' 2004 letters of objection to Lockheed  Martin's involvement in the Census (on letterhead)  2004-02-15: Nova Scotia Quakers to Minister Responsible for the census re Lockheed Martin contracts 
Eve drew particular attention to the last sentence, Feb 15th letter:
Our Monthly Meeting will also be sharing this letter with other Friends' Meetings, as well as the general public.
(You can see the opposition to the contracts for Lockheed Martin spreading across the country from the excellent research and argument that went into this letter from the Nova Scotia Quakers in 2004.   Word got to Ontario – – the trials of Todd Stelmach and Darek Czernewcan.  It reached Saskatchewan – – my trial (Sandra Finley).   Right through to B.C., the trial of (Karen) Eve Stegenga.  Not to mention all the other citizens involved.)
4.   Documents submitted, that didn't necessarily have to be (they are not evidence in the sense of "facts" that have to be proved.  They are accepted (Legislation).  We submitted a document nonetheless:
International Conventions, Cluster Munitions, Land Mines  (as used in Trial of Eve Stegenga)
Charter Rights & Oakes Test was submitted to the Court, after skimming the Judge's decision in R v Oakes and determining that the wilipedia description of the Oakes test seems to use most of the exact wording in the judgment, and would be sufficient from a lay person's perspective.
Eve submitted Stegenga charter arguments.pdf , drawing on documents used in the Churnin trial, doing her best with little time and no training.
5.  Documents viewed by the Court, but not accepted as Exhibits:
RE  LOCKHEED MARTIN:
a.  Directory of U.S. Military Rockets & Missiles 
Lockheed's cluster munitions – –   the production of cluster munitions is against Canadian and International Law, so how is it that Lockheed Martin receives Government contracts?
b.   From Lockheed Martin's U.S. website, LongShot, Cluster Munitions  (I was going to scan and upload my copy here, but it's information overkill – the preceding establishes that Lockheed Martin produces cluster munitions).
 c.   US: Wages Of Sin – Why Lawbreakers Still Win Government Contracts
by Christopher H. Schmitt, U.S. News & World Report
May 13th, 2002   (very good article)
http://www.corpwatch.org/article.php?id=7853
d.   Project on Government Oversight (POGO) Reports  (2009, 2007, 2003) establish a very clear pattern of Lockheed Martin.  They reinforce the preceding article, Wages of Sin.
POGO, as submitted to Court, please see:
http://sandrafinley.ca/?p=13367.
THE PURPOSE:
Two-fold.   First,  Eve needed to counter a statement by Justice Mocha in the Churnin case:
Page 6, Line 30:
There is no evidence before me to show that Lockheed Martin is not a trustworthy vendor.
Secondly,  citizens cannot defend themselves against something they don't understand.
Understand the modus operandi of Lockheed Martin.  They will have brought their ways and means with them to Canada.
The details in POGO's  The Politics of Contracting:  Lockheed Martin  (at the above link) tell the story.  Headings in the Report:
Money Spent by Lockheed Martin to Influence Decisions and Secure Future Federal Contracts   ///   Senior Government Officials Turned Current and Former Company Executives for Lockheed Martin   ///   (Same, except)  Turned Board Directors for Lockheed   ///   (Same, except)  Turned Registered Company Lobbyists for Lockheed
e.   The Iraq War, Brought to You by Your Friends at Lockheed Martin
http://www.motherjones.com/mojo/2007/01/iraq-war-brought-you-your-friends-lockheed-martin
f.      The War Business:  Squeezing a Profit from the Wreckage in Iraq   Democracy Now, October 2003.  http://www.democracynow.org/2003/10/30/the_war_business_squeezing_a_profit
THE RESISTANCE 
The intention here was to give the Court a sense of the widespread resistance to Lockheed Martin's involvement – – not a compendium, just a smattering.
a.    TODD STELMACH
2008-06-25 Excellent editorial in Kingston Whig Standard, "A matter of conscience", Trial of Todd Stelmach
b.    DAREK CZERNEWCAN
Census objectors come in many different forms, Guelph Mercury, July 28, 2010
 Submitted to the Court  (the Guelph Mercury article, with commentary by Darek)
 c.  No charges sought for 35,000 (200,000) natives who ignore census,       Toronto Star, Jan 15, 2008
(NOTE:  By 2010 the number, non-compliance by First Nations, was 200,000 – – see the precding article from the Guelph Mercury)
The Court received a copy of the on-line article – not accepted as an Exhibit.
 d.   Porter:  Why the 2011 census calls for some civil disobedience,  Toronto Star,  May 10, 2011
http://www.thestar.com/news/gta/2011/05/10/porter_why_the_2011_census_calls_for_some_civil_disobedience.html
 e.   Census not Bombs  (Example, one of many on-line mobilizations over Lockheed Martin in Census)
http://census2011notbombs.blogspot.ca/
f.   Census Alert U.K.  (Resistance in other countries, not just Canada)
Missing from this archive: 2 pages of information on the Canadian Campaign.   They were included in the pages submitted to the Court.
Backup copy,  (see Item #2. ) 
The Judge asked about some things.  For example,  "It looks as though this one is about the same thing (Lockheed Martin in Census), but in the U.K.  Is that correct?"
She carefully figured out a way to put minimal demands on Eve's finances.  The Prosecutor asked for (deterrence for the wider public)   $250 fine and community service.  Probably something that came down from upper levels, a direction to her.
Before leaving the Court Room, the Judge commended Eve on her professionalism, the quality of her input, her decorum in Court, and said that the community was very fortunate to have her (Eve).  She also said words to effect that it was uncommon – – refreshing – – to encounter someone with such commitment to values – – it was very good for Eve to leave Court with that.   The Trial, including the numerous attending at Court in the lead-up, was very stressful for Eve, you will know how it is – – defending yourself takes a lot of time.  You are up against people who studied the Law for 3 years and then honed their skills over a career.  The Prosecutor has the Federal Justice Dept to draw from, and is salaried. Eve is self-employed as a yoga teacher, doing reiki, etc.  Trying to find time to figure out which end is up in the Justice system.
In her questioning, the Judge drew out the fact that Eve is self-employed.  She stated a clear understanding of the costs imposed by defending herself against the charge of non-compliance.   (There were 9 occasions when Eve had to present herself at the Court House, over the 8 or 9 months.  She lives a good half-hour away in a smaller community.)   The Judge said that Eve had already paid lots in fines, including lost income as a consequence of having to work on her defence.  All in all,  Eve was fortunate that the particular Judge and the particular Prosecutor were assigned to her Trial.  Both were very considerate,  did their jobs well, under a system that (as the Chief Justice says)  needs to change.  It is not designed to serve the average citizen;  it is not affordable to defend yourself against the forces of the Justice Dept.  Most people capitulate to the coercion, in recognition that they stand little chance in Court, even though their case might be one of innocence and merit.